Attorneys
Fletcher G. Rush
(1917-2003)
Fletcher G. Rush was born in Orlando, Florida.  A graduate of University of Florida, Mr. Rush was a "Distinguished Alumni" of the Alpha Omega chapter of Alpha Tau Omega fraternity.
Mr. Rush was admitted to the Florida Bar in 1942.  After graduation, he was called to active duty in the U.S. Army and saw combat duty in Europe. He was discharged as a Captain and started practicing law in Orlando in 1946.
Mr. Rush was a reputable leader on a local, state, and National level.  Mr. Rush was a member of the First United Methodist Church of Orlando for 70 years, chairing its administrative board and building committee.  He was President of The Florida Bar from July 1966 to June 1967, a member of the state's Board of Regents, President of the American Judicature Society in 1978, and a founding member of Attorney's Title Insurance Fund.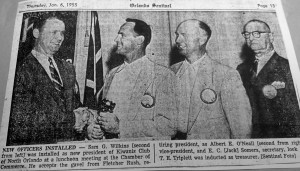 A respected jurist, Mr. Rush made several National appearances, including a television appearance on Firing Line with host William F. Buckley.  In 1973, Mr. Rush testified before the Subcommittee on Housing and Urban Affairs of the Committee on Banking, Housing and Urban Affairs United States Senate Ninety-Third Congress First Session on Proposed Housing and Community Development Legislation for 1973.
In his capacity as the President of the American Judicature Society, Mr. Rush once corresponded with Congressman Peter W. Robino (D-NJ), Chairman of the House Judiciary Committee,  in regards to Congressional hearings on Diversity of Citizenship Jurisdiction and Magistrate Reform Act of 1979 in 1978. (H.R. 1046 and H.R. 2202).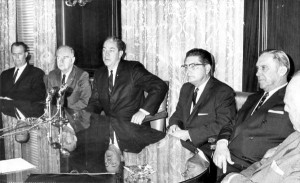 Mr. Rush retired from Rush Marshall in 1992 and passed away in 2003.  He was impeccably honest, and a dedicated family and church man with strong character.